Main Industries
KoMiCo's technology in cleaning and coating is being applied to major device industries such as semiconductors, displays, and solar-photovoltaic industries, where cutting-edge technology is required. Especially, in the semiconductor industry, dozens and hundreds of processes are repeatedly carried out in a harsh environment such as ultra-high temperature and plasma. In any event of any issue during the process, the operation rate and production yield would plunge, causing a great economic loss. As a result, chip makers and equipment manufacturers around the world are constantly researching for optimal process conditions.

Our precision cleaning and special coatings are designed to remove the contaminants and particles from equipment parts during the semiconductor manufacturing process and to restore them to their original state, which is an essential process to improve the cost competitiveness of semiconductor manufacturing companies by extending the life of equipment, reducing the use of consumable parts and maintaining the optimal process yield through micro contamination control during the process.
What KoMiCo does
KoMiCo was the first company founded in Korea to commercialize cleaning and coating service for semiconductor parts in 1996. Based on long-term experiences and know-how, we have developed and supplied a variety of cleaning and coating technologies suitable for our customers' processes in order to clean, coat and reuse expensive process equipment parts.

As the integration of semiconductors has resulted in the miniaturization of DRAM memory and System LSI linewidths, and the escalation of layers of NAND flash memories recently, it is becoming much more important how to control the micro contamination. Controlling the micro-contamination means keeping equipment and components free of contamination and regeneration, as well as keeping them in optimum condition for process operations. These efforts are helping to maximize the process yield and productivity and also contributing to the customer's profits by reducing production costs, increasing equipment life and improving PM cycle.

In order to provide more efficient technical services, we have been developing and operating MES (Manufacturing Execution System) on our own since 2001 in order to control and verify the technology, production, quality and logistics in real time. By doing so, we will perform our role as a Chamber Solution Provider to fulfill our customers' needs through unparalleled data accumulation and analysis in the field of semiconductor precision cleaning and coating, thereby achieving customer value enhancement.
KoMiCo Service
KoMiCo offers advanced cleaning and coating technology and quality assurance services to minimize damage on high-function equipment components in the contaminants removal process and to increase equipment efficiency.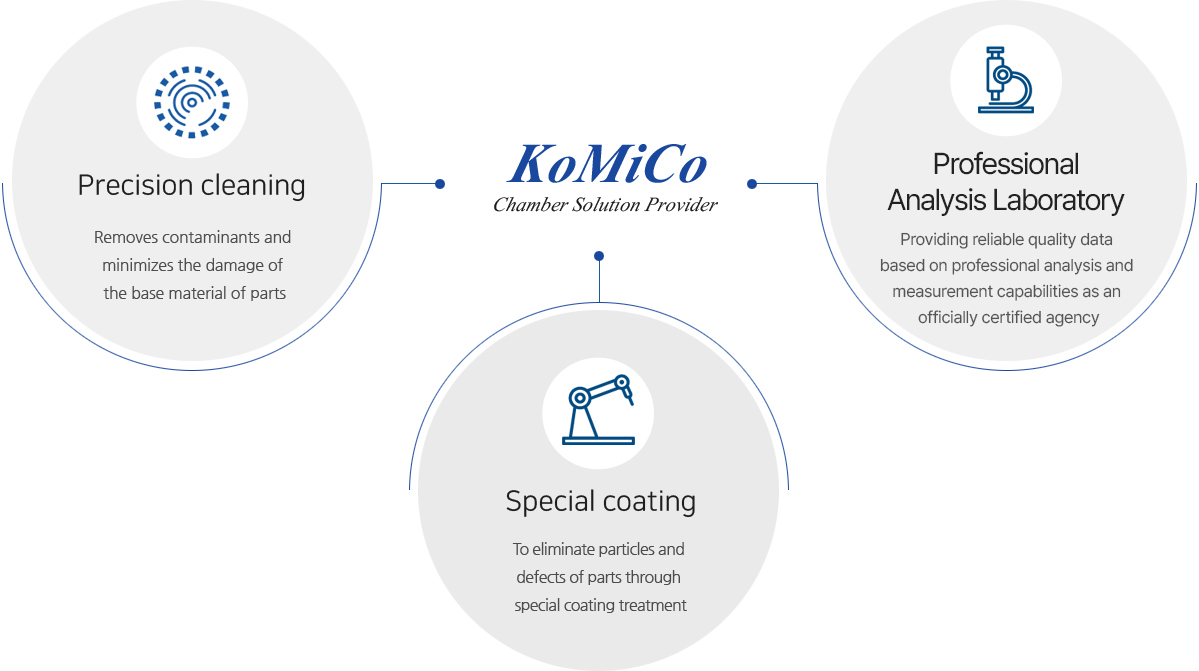 Introduction video on KoMiCo business
This video is only for your information and may differ from the actual process.