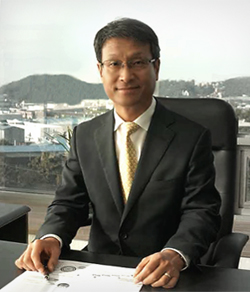 CEO Kim Tae-ryong
Greetings from KoMiCo. I'm Kim Tae-ryong, the CEO of KoMiCo.
KoMiCo was the first company in Korea to commercialize the cleaning and coating business for semiconductor parts in 1996; and then in August 2013, in order to promote the specialization of the semiconductor cleaning and coating business,KoMiCo became separated from the existing company Mico by spin off and established it as a new corporation.

The demand for memory semiconductor such as DRAM and NAND flash is increasing due to the 4th industrial revolution such as artificial intelligence, autonomous driving and big data, etc.; and the process is becoming finer and more sophisticated due to the semiconductor integration. In response to these changes, we aim to accurately forecast the complex and diverse needs of our customers and provide the best solutions and secure new possibilities to focus on the sustained growth in the business.

In order to achieve the sustainable growth, we are actively responding to customer needs by improving quality and service level, shortening delivery time, and improving work environment, etc. We are also contributing to customer's cost reduction and yield improvement through new technology development.

In addition, we expand our coating and coating business by collaborating with other semiconductor equipment manufacturers and become to have diverse Biz portfolios by developing a carbon composite material in the solar and/or the high-temperature heat treatment industry.

In the future, KoMiCo will become a global leading company that creates new customer value and achieve successful business diversification by expanding its existing business as well.

Thank you.